Posted by Laura on 2021 Oct 19th
Pacifier Addict is excited to announce that we are now accepting Afterpay as a payment method! It's a great way to ensure you can snag everything you have your eye on while also allowing you to stay within your budget.
With Afterpay even those who do not have a credit card or Paypal account can now enjoy shopping on Pacifier Addict. We know you're going to love everything that we have to offer!
Benefits of Using Afterpay
Having payments broken into multiple installments means that you can get the pacifier or bottle you have your eye on sooner rather than later! Smaller payments means less burden on each of your paychecks while still allowing you to snag what you like!
Afterpay is also great when it comes to bulk orders. Thinking of stocking up on Size 6 pacifiers? With our bulk discounts the more you buy the more you save! Afterpay is perfect for these situations as it allows you to get more while not overwhelming your wallet.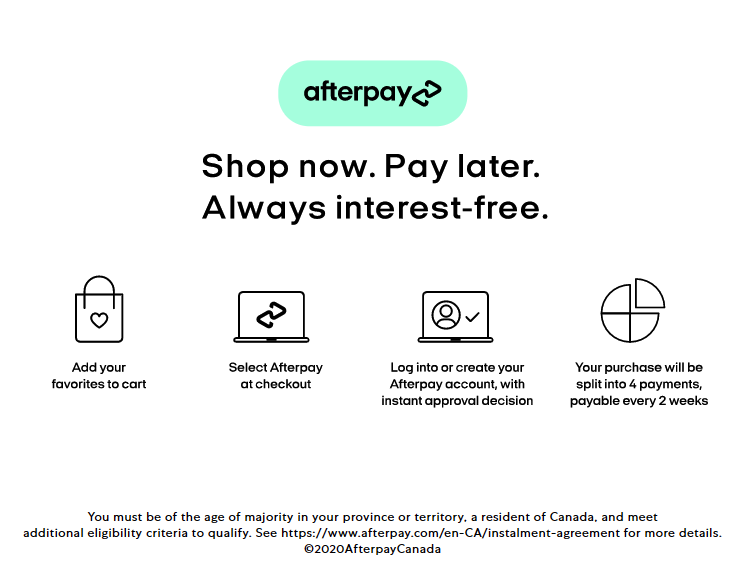 How it Works
Signing up for Afterpay is simple! Just visit their website and provide your email address, phone number, residential address, date of birth, and debit/credit card information. After that you're good to go! There is no long drawn out application process or complex terms and conditions.
Once you've signed up you can shop on Pacifier Addict as you normally would and then select Afterpay as your payment method during checkout. By doing this your payment will be broken up into four equal installments. The first installment is paid immediately after placing your order, and the other three are paid every two weeks from the purchase date. There's no interest for payments made on time, and with payments withdrawn automatically from your bank account or credit card things couldn't be easier!
With all of the benefits that Afterpay brings to the table we hope you find it's an easy and convenient way to checkout on Pacifier Addict!
You can learn more about Afterpay and how it works here.